Memorial Day Weekend 2022
Memorial Day Weekend 2022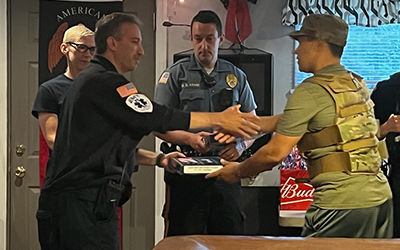 The veterans at American Legion Post 209 in Scotch Plains presented certificates of appreciation to local first responders on Saturday morning, May 28th, before embarking on the yearly ruck walk through the towns. Capt. Ian Lewis and police Lt. Dan Kranz accepted the honors on behalf of the Rescue Squad and Police Department.
Later, they attended the dedication of the new street sign honoring Marine Corporal Robert Wood, a Fanwood native, killed in action in Vietnam, who was thought to be from Georgia but whose real birthright was discovered through the efforts of local Boy Scout Michael Mahaffey for his Eagle Scout project.
And thanks to Juliana Crifasi, Wes Lewis and Ed Winsor for washing the rigs for the Memorial Day parade. Juliana's daughter Audrey helped, too!