A legacy of service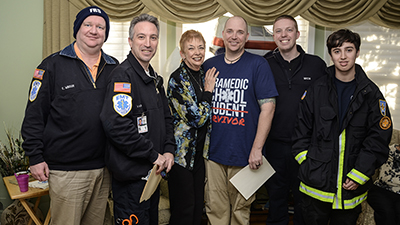 Eric Hoyer saw how committed his dad was to the Fanwood Rescue Squad. Indeed, Bob Hoyer, a member from 2006 to 2014, was a top responder for several consecutive years as a driver and first responder. He received Responder of the Year honors at the annual Overlook EMS awards dinner in 2007. His widow Bernadette (pictured in the group photo), who remains active around Fanwood, proudly watched Eric become an EMT in Bridgewater and as he now begins work as a paramedic for Robert Wood Johnson University Hospital. Members of the rescue squad presented Eric with a letter acknowledging his achievement and the memory of his dad during a surprise visit at the Hoyer home in Fanwood.
"We want to congratulate you on the achievement of your paramedic certification," reads the letter signed by Captain Ian Lewis and President Jamie Pedinoff. "We understand this was a dream and aspiration and we appreciate being able to share this momentous occasion with you and your family."
Thanks to Capt. Lewis and squad members Wes Lewis, Brian Downing and Ed Winsor for attending. Bob's legacy lives on in his son and we are proud to recognize Eric's future work saving lives. Good luck, Eric!