Look Back: 2007 South Ave Building Collapse
Look Back: 2007 South Ave Building Collapse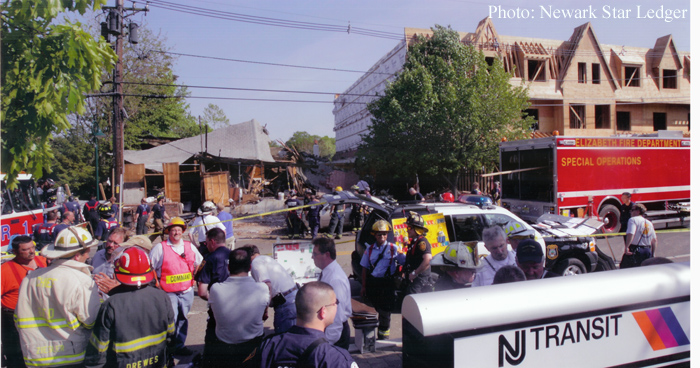 A brick firewall from a building under construction in downtown Fanwood collapsed on top of an older, more fragile building next door on the afternoon of Tuesday, May 15, 2007, causing the older building to collapse and trapping three people inside.
The Livingston Wilbor Corporation, a machine shop, was destroyed. Two men, company owner Garry Wilbor and an employee were trapped under tons of concrete, metal and wood for almost an hour before firefighters and a special rescue team freed them. Both were airlifted to Robert Wood Johnson Medical Center in New Brunswick with non-life threatening injuries. They were conscious and talking with rescuers the entire time. Another employee got out virtually without a scratch after the ceiling came down around her. She walked out with the help of firefighters and was driven home from the scene by her husband. A fourth individual also escaped under his own steam.
Construction on the new building was immediately halted. An investigation into the cause of the collapse was launched by federal, state and local officials. Attention immediately focused on the firewall and whether it was adequately fastened to the superstructure of the building under construction. Investigators from the U.S. Occupational, Health and Safety Administration (OSHA), Union County Prosecutor Thomas Romankow and regional building inspectors were among those at the scene.
The Fanwood Rescue Squad and Fire Department were there within minutes of the collapse, which occurred just before 2pm at 238 South Avenue. Paramedics from Mercy 6 were also on scene immediately and coordinated the care of the victims as they were extricated from the rubble. The first-in responders were quickly backed up by Union County emergency management personnel including fire Mutual Aid Command (MAC) and the NJ EMS Task Force. Fire departments from as far away as Bayone and Jersey City responded. Rescue squads from Scotch Plains, Plainfield, Elizabeth, Summit, Cranford and Clark responded.
Once the injured men were removed from the scene, the Fanwood Rescue Squad's primary focus shifted to keeping firefighters and other emergency responders healthy, providing water, blood pressure checks and any other medical assistance.
The Scotch Plains Rescue Squad moved both their rigs to our building where they covered EMS calls in both Fanwood and Scotch Plains until 11pm. The response from our members was tremendous. Many hearing about the collapse at work, on the radio or after they arrived home either called in or simply showed up at the scene. Thanks to all of our volunteers who stepped up for this major emergency.